Foundation Repair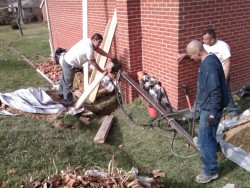 Your foundation is the structural basis of your entire house, securely distributing the weight of your building into the ground. But even well-designed foundations can develop problems due to soil settlement, heavy rains, or other ground movement issues. Foundation failure can cause structural instability and other major problems—if not addressed promptly, they can even lead to building collapse! Keep your home or commercial property structurally sound and sturdy with the foundation contractors at United Dynamics, Inc. We provide expert foundation repair services throughout the Evansville, IN, area, and we're ready to help you with residential and commercial foundation problems from cracks to bowing walls and beyond. Call today for professional service and superior workmanship.
Do You Have House Foundation Problems?
Signs of foundation settling, cracking, bowing, and other problems can manifest themselves both inside and outside of your home. Some common signs include:
Sticking windows and doors
Roof or basement leaks
Cracking bricks, masonry, or walls
Bowing, bulging or leaning walls
Stair-step cracks in masonry
Tilting or leaning chimneys
Caulk tearing at windows or doors
If your home is showing any of these symptoms, it's important to call United Dynamics ASAP. Many basement issues mean that your foundation will continue to deteriorate until they are repaired, so don't wait to call. Our professional foundation contractors have the knowledge and expertise to fix a full range of basement problems from settling to cracking. Let our team ensure your foundation will continue to support your home or office for years to come—call now.
Professional Concrete Foundation Repair
United Dynamics has a full arsenal of tools, expertise, and equipment to address just about any foundation repair problem. Our foundation contractors can assess the state of your foundation and recommend the appropriate treatment measures as well as provide a free estimate. Foundation repairs available from United Dynamics can include:
Foundation Crack Repair
Abe Jack Foundation Wall Repair
Foundation Piering
House Leveling
Structural Support Repairs
From wall plates and crack repairs to the Tel-O-Post system, we have the techniques and tools available to take care of everything from complicated house leveling jobs to more basic foundation repairs. At United Dynamics, our team is committed so stabilizing and shoring up your structure no matter what foundation problems you're facing. 

Regardless of what your commercial or home foundation repair needs may be, the experienced professionals at United Dynamics should be able to help. With our broad selection of basement repair and foundation support services, we can address everything from bowing foundation walls to settling problems. And don't forget, we also offer complete basement waterproofing. United Dynamics is your one-stop shop in Evansville for total foundation repair and waterproofing, so call today! The sooner you call, the sooner your home, office, or other commercial building will be on the road to long-term foundation stability.