Foundation Stabilization

From helical tiebacks to foundation piering and beyond, United Dynamics is committed to bringing you the personalized foundation stabilization services you need to keep your home or commercial property adequately supported. Serving the Evansville region since 1989, our team is here to troubleshoot your foundation problems and then provide effective foundation repair to resolve whatever issues your structure is facing. Call on our foundation contractors today for your free evaluation and estimate.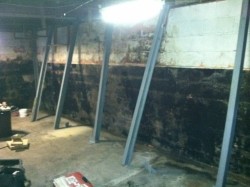 Bowing foundation walls undermine your building's structural support and can create far-reaching issues throughout your home. Problems like windows and doors that are out of square, drywall and plaster cracks, and warping walls can all be traced back to a need for basement wall repair. With our foundation contractors on the job, you can rest assured that we'll track down the specific issue and then implement the commercial or home foundation repair that will be best for your particular situation. United Dynamics is dedicated to bringing you nothing but the best when it comes to foundation stabilization, and our A+ rating from the BBB shows that we're outstanding at what we do!
Abe Jack Foundation Wall Repair
When your foundation walls are bowing or cracking, it creates a major problem for the overall stability of your home. United Dynamics uses an innovative basement wall repair process called Abe Jack to straighten, reinforce, and support your failing walls. Ideal for both poured and cement block foundations, Abe Jack is able correct even complex wall displacement issues. With this system, our foundation repair contractors are able to realign your basement walls into their original position. In fact, with its unique construction, Abe Jack's steel wall reinforcing beams are permanently bolted in place for continued support. That means additional foundation bowing of this type is unlikely to recur, bringing you long-term peace of mind.
Foundation Piering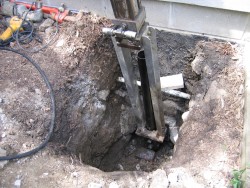 The solution for serious vertical foundation settlement problems is generally piering. This foundation repair technique involves using underground supports to lift the foundation to its original level, and keep it there. United Dynamics offers both pressure piering and helical piering for different situations and soil compositions, and we can recommend the appropriate foundation piering system for your particular foundation problems. Our team will design and implement a customized foundation piering plan to provide support and reinforcement, ensuring that current settling issues are addressed and preventing additional settlement for long-lasting foundation stability.
When you're facing house foundation problems or your commercial property is in need of foundation repair, you've come to the right place. Don't hesitate to contact us today for more information about foundation stabilization in Evansville and beyond. United Dynamics is here to serve you!