Services Offered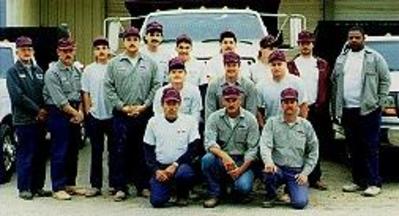 From piering to wall stabilization, United Dynamics offers a full range of foundation repair services to customers throughout the Evansville region and into western Kentucky. With over thirty years of experience in the industry, our professional foundation contractors have the skills and expertise to bring you complete foundation repair, stabilization, and support services. Additional services include concrete repair, pouring, and installation, radon detection and mitigation as well as basement waterproofing and concrete slab pressure grouting. We're a family-owned company dedicated to providing our customers with superior workmanship, great value, and long-term basement repair solutions: if you're facing foundation deterioration or instability, give us a call today. The United Dynamics team is here to solve all of your foundation repair needs!
The high clay content of soil throughout the western Kentucky and Evansville, IN, area leads to a great deal of soil contraction and expansion. Even in properly constructed foundations this movement can wreak havoc on the stability of your home. But with basement repair and waterproofing services from United Dynamics, we can stabilize and repair your foundation for long-term structural health and strength. We have over 30 years of experience in the foundation repair industry, and our team of professional contractors has the knowledge and hands-on skills to ensure your foundation can stand up to even our region's soil movement issues. Call now for expert foundation contractors with the experience to do the job right the first time.
Free Estimates: We're pleased to offer the convenience and peace of mind of upfront pricing.
Fantastic Warranties and Guaranties: United Dynamics stands behind our waterproofing and foundation repair services with a variety of warranties and guarantees. Depending on the type of work we perform, different coverage applies, so be sure to ask about the details of your particular basement repair warranty. With our full range of warranties and guarantees, you can be completely confident in our quality workmanship and services.
Commitment to Customer Service: At United Dynamics, we're dedicated to ensuring your foundation repair or basement waterproofing service is correctly and thoroughly completed, but we're also committed to customer satisfaction. To ensure we provide every customer with only the best service, we follow up each project with a customer quality form: your input helps us make certain that we continue to bring great service to all of our customers.
Fully Insured: The foundation contractors at United Dynamics are fully insured for your safety and protection. Unlike fly-by-night companies, our team is fully covered to eliminate any liability issues and safeguard your home.

United Dynamics is affiliated with numerous trade groups and associations, ensuring we stay on top of the latest technology and developments in the foundation repair business. We're members of the:
National Association for Waterproofing and Structural Repair Contractors (NAWSRC)
Better Business Bureau (BBB)
National Association of Home Builders (NAHB)
American Council of Engineering Companies (ACEC Indiana)
Apartment Association of Indiana, Inc.
Consulting Engineers of Indiana
Structural Engineering Association of Kentucky