Foundation Crack Repair
If your foundation has visible cracks, large or small, it's only a matter of time before water starts to seep in. This will end up causing additional foundation damage and fostering mold growth, so don't wait to get foundation crack repair. United Dynamics has been in the foundation repair business since 1989, and we're committed to taking care of all of your needs from cracks in a basement floor to cracked basement wall repair. We serve both homes and commercial properties in and around Evansville. Call in our team for a free, accurate assessment of your foundation's problems, and get the professional repair services you need!
Cracked Foundation Repair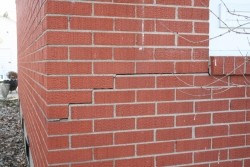 United Dynamics can repair the full range of cracks in basement walls or other parts of your foundation. With our decades of experience in the business, we've seen and fixed it all! Depending on your foundation's specific situation, our team can provide a variety of solutions designed to meet your property's particular needs. Options for fixing cracked foundations include epoxy injection crack repair, carbon fiber strips, and other services that seal cracks and support your foundation.
United Dynamics is an A+ rated, accredited business with the Better Business Bureau, and our goal is 100% customer satisfaction. We'll work hard to correctly diagnose both the cause and the magnitude of your house foundation cracks. By understanding the reasons behind the cracks in your foundation wall, our pros can ensure you get the most effective solution. We'll implement the basement crack repair solutions that are best for correcting your existing issues and preventing future cracks in your foundation. We are here to take care of your property's structural stability today and long term.
Foundation crack repair is a crucial step for the general health of your foundation, reinforcing the fracture as well as assisting in basement waterproofing. So don't wait to get your cracked foundation repair! Contact United Dynamics right away for expert help in Evansville and beyond. We're standing by to take your call and get started on your basement wall crack repair.
Repair Foundation Cracks
Crack Repair